12th January - 2nd March 2014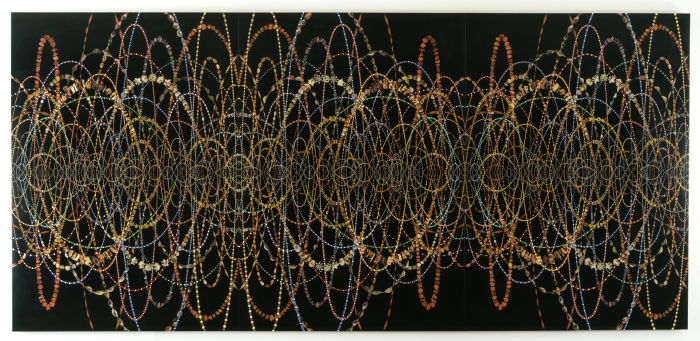 The exhibition presents a selection of works that span the past 10 years of the artist's career, including his elaborately layered paintings and New York Times collages.
Fred Tomaselli is known for his visually packed paintings that are hybrid in materials, subjects, and cultural references. A single piece may be comprised of brightly colored passages of paint, photo-collage, found images from field guides and magazines, and drugs such as aspirin, marijuana leaves, and ecstasy pills. These materials are layered onto wood panels and suspended in slick epoxy resin. Tomaselli's stylized works range from psychedelic-patterned abstractions to idealized representations of allegorical figures, animals, nature, and the cosmos. The more time spent with the artist's paintings, the more details emerge, and the works become increasingly complex and dynamic.
Tomaselli's mesmerizing scenes bend reality through visual stimulation and seduction, illustrating the utopian and transcendental abilities of art. His works also comment on the artifice of suburban America in the 1960s and 1970s and the subcultural quest for escapism–whether it be reached through hallucinatory experiences or trips to amusement parks such as Disneyland–realities that are particularly tied to the artist's upbringing in California during those years. On his work, Tomaselli states, "It is my ultimate aim to seduce and transport the viewer into the space of these pictures while simultaneously revealing the mechanics of that seduction."